Lecture content
Introduction to engineering dynamics including the theoretical basics of modelling and dynamics, computer-aided engineering methods and practical applications. Kinematics and kinetics, principles of mechanics: D'Alembert, Jordain, Lagrange's equations of second kind, multibody system modelling, computer-generated equations of motion for multibody systems based on Newton- Euler formalism, applications to mechanisms, rotor dynamics, vehicle dynamics, state space form for linear and non-linear dynamic systems with finite degree of freedom, free linear vibrations: eigenvalues, vibration modes, time behaviour, stability, forced linear vibrations: impulse, step and harmonic excitation, resonance, anti-resonance, critical speed of rotors.
Lecture information
This course is given in German. For contents and lecture information, please refer to the German website.
Dozent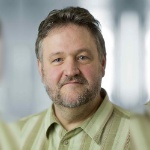 Peter Eberhard
Prof. Dr.-Ing. Prof. E.h.
Pfaffenwaldring 9, 70569 D-Stuttgart