Project Description
In the simulation process it is necessary to describe the technical properties accurate with regard to the demands and the computational time. The description of the dynamical behavior of mechanical systems as a flexible multibody system is state of the art in many different applications, like robotics, car and powertrain developments or the analysis of machines. If the deformations of the elastic body are small and linear, the systems are called elastic multibody systems.
Elements of classical multibody systems are rigid bodies, which are interconnected by ideal joints and constraint elements between each other and the surrounding environment. With respect to the increasing usage of lightweight structures and increasing working speeds, the negligibility of elastic effects is no longer appropriate this leads to unrealistic simulation results.
Flexible multibody dynamics is the subject dealing with the modeling and analysis of constrained flexible bodies that undergo large displacements, including large rotation. The large displacement includes rigid body motion as well as elastic deformations. The research effort in this area have led to many concepts and approaches that's used in a wide range of flexible multibody applications
Finite elemente formulation for large deformations
Incremental method
Large rotation vector method
Floating frame of reference formulation
For systems where the elastic deformation is small compared to the rigid body motion, the floating frame of reference formulation is a sensible choice and included in commercial tools like SIMPACK, MSC ADAMS und LMS Virtual Lab. In this formulation the motion of a flexible body is separated into a usually non-linear motion of the reference frame and a linear elastic deformation with respect to this reference frame. The small elastic deformations are described with the linear finite element method and represented by a second order differential equation. To improve the simulation process the model order reduction helps to reduce the large number of degrees of freedom.
Field of Research
In various research works different aspects of the simulation process of elastic multibody systems are considered or applied on technical and industrial problems.
Contact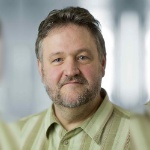 Peter Eberhard
Prof. Dr.-Ing. Prof. E.h.
Pfaffenwaldring 9, 70569 D-Stuttgart